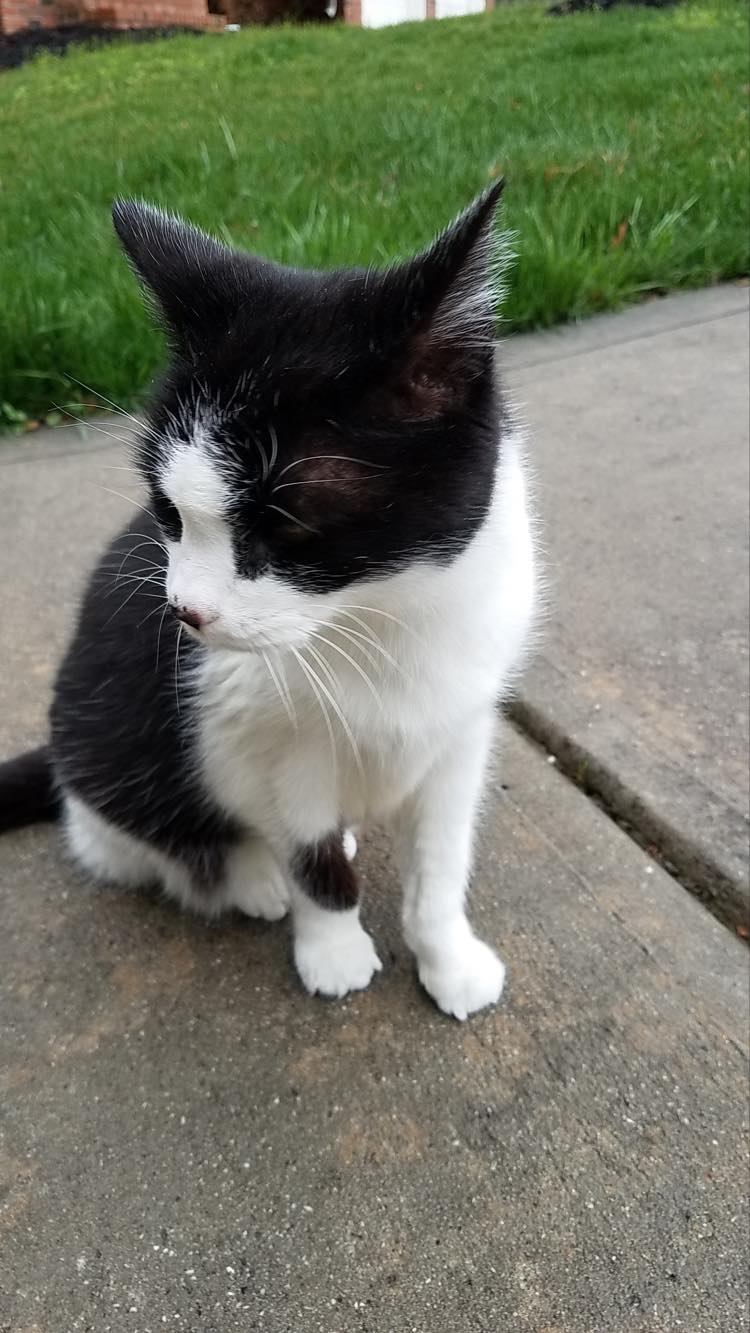 I am at a loss for words right now, but I'll try to explain. Cubby was our sweet kitty for 15 years and 4 months. She came to us as the kitten of a stray in April of 2003, and she has made our love for her grow instantly.
We got Cubby while
my dad was on a business trip to Japan. Our neighbor at the time had a mama cat and kitten in his backyard, and we were all concerned with the safety for the kitten, though the mama cat knew how to care for herself outside. While on the phone with my dad, all of us were so excited to tell him the good news. He said, "I
really don't think a cat is a good idea in our life right now…" or something like that. My mom proceeded to find not one, but two families who wanted her, but by the time dad got home from his trip, we all were attached to her. After just a bit of discussion, it was clear that she belonged to our family.
Shortly after adopting her,
we had to name her, and… well, let's just say we had a few choices: Daffy, Super Amazing Gumball, etc. We all settled on the name Cubby! She grew to love being petted, and we would make her dance, with help provided by us moving her little paws and legs with our hands on the table. She always had the look, like, "I'm not ideally a dancer, but what choice do I have? "
Cubby had tendencies of tackling one of my sisters quite a bit, which was very funny for me to be entertained by. A fun fact about Cubby is she never ever bit me once, no matter how many times I annoyed her. It was as if I was there, she thought I was giving her permission to bite them, but not me! She was the most loving cat a person could have in life. Cubby was loved by many people. She was even quietly featured in the book I wrote in 2017, so she was kind of a celebrity. Cubby would never tolerate obedience lessons because like a cat, she would be very persistent to only do things her way, which was nothing but perfection in my book.
Cubby was a talker, and sometimes singer at heart, because when she and I had times at 1 am, I could've sworn she was singing better than 95% of anyone in the top 10 best singers on the Itunes charts. We had very deep conversations, and she never told a soul of the
many secrets I told her. She was the kind of kitty that preferred the outdoors more than the inside, and that came into play when we moved into a slightly bigger house. She really enjoyed letting us know that for sure when we started noticing carpet by doors slowly being removed and in her mouth! She became the neighborhood cat, but never once thought to leave us.
There have been so many moments of Cubby's life that will live in our hearts for more years than I can count. I'm so humbled to have her as a sister, best friend, and family member. She never doubted our love for her! I can remember when she took down three baby raccoons, trying to take her food. That wasn't the only time she showed her strength, though. She brought me many presents at my front door, including long-eared baby mice, that looked EXACTLY like baby bunnies. She laid them out proudly on the front step. She was a very tough cookie, as my grandma would say.
Around 11 pm last night (August 20th, 2018) Cubby started acting kinda strange, and if it wasn't for my sister's fiance noticing her as he left, Cubby would've had a very hard night, and likely would have not survived. She started expressing symptoms like my dog Butterscotch had done, closer to her ending. A sudden issue that we later found out was a blood clot in her back, along with intense pain brought us to the emergency vet, and we said our goodbyes at 1:15 am.
We will miss Cubby but are so grateful for what a wonderful pet and family member she has been for these many years. Her final moments were the hardest for me for sure, but she licked me repeatedly and meowed, "I LOVE YOU" in the car. My mom even said, "Wow, that sounded just like 'I love you!' She hugged me and nestled her head into my chest, purring. I will never ever forget her.
I can promise you, Cubby, when you peacefully went to sleep I will never forget the way you shed your warm fur on my skin.
Rest in peace, Cubby. Your life was very full, and now is your time to sleep tight with no more pain!